In the beginning, there were two.
Somewhere in the middle, she felt like she was
the only one on the planet.
In the end, was her heart complete?
Twin Stars and a Mother From Mars is a true story. It follows the route that many people take so that they may have the family they have always dreamed of – sometimes it works, often it doesn't, but either way the ride is completely unexpected, whatever the outcome.
I started writing Twin Stars and a Mother From Mars as a means of helping myself come to terms with something that I absolutely struggled with, and barely scraped through – it has changed me profoundly. I realised that what I went through, not only the IVF itself, but the unexpectedly difficult twin pregnancy and traumatic birth, may inspire others, or at the very least know that they are not alone.
So, here's the thing – my book is very personal – written in a journal format, it reveals a whole lot about my character and what makes me tick which, for a self-confessed introvert, is a huge deal! My aim is to reach as wide a readership as I can to create as much infertility awareness as possible, and to provide an invaluable go-to read for the many women who are, have been, or will be going through the IVF experience. And for others? To maybe appreciate that they don't have to.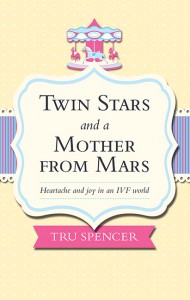 AVAILABLE NOW – CLICK THE IMAGE TO BUY