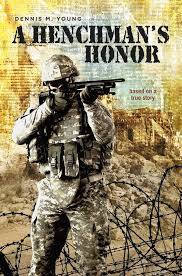 Wow. Seriously. It's rare that a book will make that much of an impression on me that it prompts me to write a review such as this. "A Henchman's Honor" by Dennis M Young, based on his true story, is on a different level.
I have just finished the last chapter; my heart is pounding from the emotional stress, my eyes are puffy from the tears, and my head is reeling from trying to process the implications of what I've just learned. I am overwhelmed and just don't know what to say. I am completely drained. I think I need to go and lie down in a dark room somewhere and really reflect on the many things I'd previously been told were a part of reality and that I'd been led to believe were true.
That may sound crazy, over the top even, and I know I'm prone to drama on occasion, but even I had no idea of the power that Dennis' words would have, or their effect on my psyche. Given the subject matter it's not something that I would naturally be interested in. Quite by accident  Dennis and I became friends on social media, and I discovered that he'd written a book, so immediately downloaded it on to my Kindle. Having never previously read anything with a military background I wasn't too sure how I'd find it, but by the end of the first page it'd had such a profound effect on me that I had to put it down and take it in – the truly shocking beginning, and the fact that it was about someone I'd conversed with surprised me with the inability to come to terms with what 'could' have happened. From that point on I knew I was in for a revealing discovery, not only of Dennis' mindset during the many years that his book covers, but of the often distressing situations he found himself in, and of the knowledge revealed towards the end.

From his early life on a farm in Canada to his time in Bosnia, and everything in between, the depth of Dennis' book means you will be riveted from start to finish. His ability to write honestly and openly, and often with much humour, keeps the story flowing from one experience to the next. I cannot stress enough how passionate I am about it – his story needs to be told. There are two books I've read that have actually made a difference to me. Atlas Shrugged by Ayn Rand is one of them. A Henchman's Honor is the other. Dennis, it is MY honour to know something of you, in however limited a capacity. Thank you, sincerely, for your bravery and resolve, in the past and for the future.